As a life coach, attracting new clients is always going to be a part of your business.
The Client Path: Every successful entrepreneur will tell you that the most effective way to grow your business is to offer additional products and services to your existing clients.
These are the people you've already established a relationship with, and that already know, like and trust you.
Once your clients complete the transformational curriculum you guide them through, and they see and experience the results for themselves, they're going to be eager to continue working with you so that they can continue enhancing the quality of their lives.
As your client's lives start to expand and improve, they will begin saying to you, "This has been amazing, I want to keep going! What's next?"
They're going to want to continue the forward momentum that they're experiencing…
So ideally, you want to find a coaching certification program that gives you access to additional programs that you can offer your clients when they ask what's next.

This is what "extending the client path" means — it's extending the coaching experience, which also increases your business revenue and, more importantly, your clients' results!
Most life coaches are never shown how to master extending the client path
The most successful life coaching businesses are not coaching businesses where clients buy one coaching hour at a time, or three months of coaching, and then another three months of coaching after that…
Clients love it when they feel like they're really progressing through a learning experience, while their life is expanding and growing in harmony with a vision they have for their life.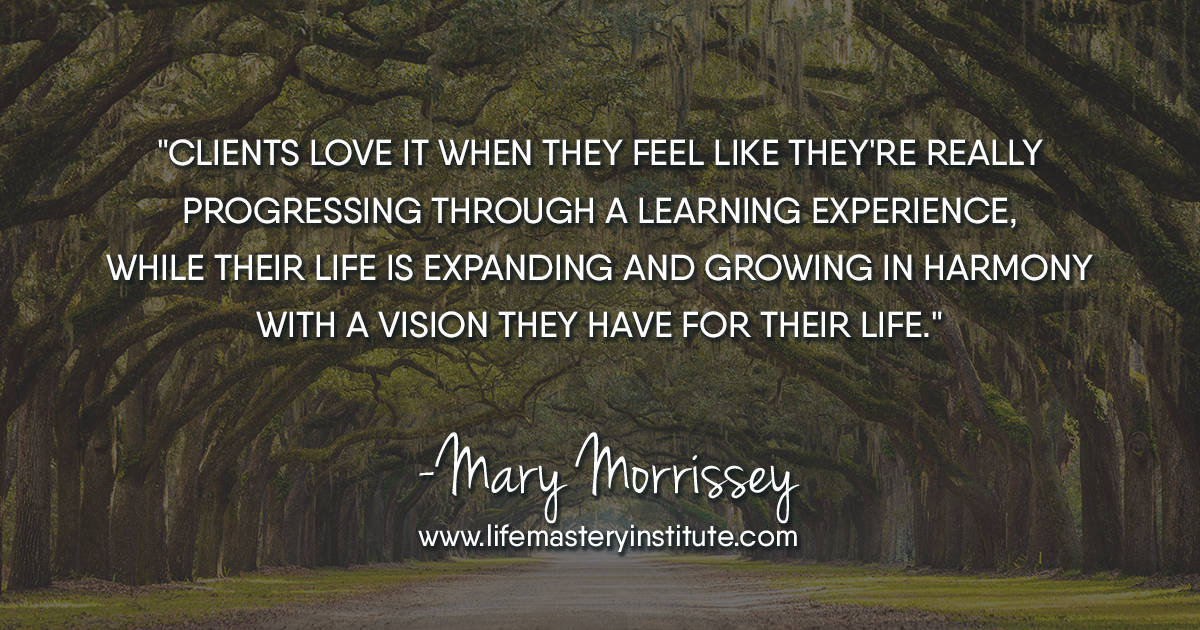 I've invested the last 30+ years teaching transformational principles to individual clients, to small groups and in front of thousands of people, live from stage…
And for decades, people kept approaching me saying, "Mary, I have the same calling that you do. I want to make a profound and lasting difference in the lives of others. How can I do what you do?"
I would always say, "Well, you know what Gandhi says: 'Become the change you want to see in the world.' Create a life that you truly love living, and you'll inspire others to do the same."
I hope you realize by now that if you're reading this, you're on the extended client path I've created through founding Life Mastery Institute 😉
But then, on my 60th birthday, something in me shifted…
I absolutely loved my life and I love what I do, but I knew that I was not going to be able to travel and teach and speak forever…
And so I began thinking of a way to empower others to teach and coach what I've been privileged to learn, develop, teach and coach.
And so, in 2009, Life Mastery Institute was born out of this longing to help more people help more people… to certify others in how to teach and coach transformational principles and the invisible side of success… so that together, in a small or large part, we could co-create a global impact and leave a lasting legacy for future generations.
Life Mastery Institute has quickly become the premier certification program for heart-centered life coaches.
We've now trained and certified over 1,500 coaches from all walks of life, and from all over the world in a proven system of transformation for living a life they love living as coaches… AND in helping the clients that they're working with design and live a life that THEY truly love living as well.
FREE: "Are You Meant to Be a Life Coach?" eBook
Reveals Everything You Wanted To Know About Life Coaching as a Career!
Find out the path to creating the life you want…
… and make a fulfilling career through life coaching!
At Life Mastery Institute, we give our certified life coaches access to a powerful series of transformational programs that they can offer their clients
Our coaches have the ability to extend the client path for up to a year or more, to continue helping their clients generate extraordinary results over a longer period of time. This is one of the reasons why many of our coaches are exceeding six-figure incomes per year.
Here's something else that's important for you to know – there has never been a better time to be a life coach. In fact, Forbes magazine called life coaching "one of the fastest growing six-figure careers" in the United States, and this growth is happening all over the world!
As you probably already realize, we are living in a time of expanded awareness:
living in the moment…

being a more awake and aware person…

expanding one's possibilities…
…most people didn't really discuss these concepts 20 years ago, or even 10 years ago!
25 years ago, if you told someone you were a coach, they would say, "What sport?"
But now, as the awareness of humanity continues to grow, these topics are becoming a part of the normal conversation of everyday life.
More and more people are realizing that there is a hidden pattern to success, and they want help understanding this pattern and applying it to their lives in a way that will help them produce extraordinary results quickly and easily.
For more step-by-step tools and proven strategies on how to start or grow a successful life coaching business that makes a profound and lasting difference in the lives of others, and allows you to earn an abundant income working from anywhere that you choose, click here to download my FREE ebook, "Are You Meant to Be a Life Coach?"