While we can teach you plenty about how to structure your business, the first and most important stage of building your life coaching business is to attract your ideal life coaching clients.
This means knowing who you want to serve, and who you do not want to serve.
Life coaching is one of the most rewarding career paths you can choose. You measurably enhance the life of each person you work with, and because you're following your heart and giving from your soul, you're enhancing your own life as well.
But what about the business side of life coaching? You may be wondering how to build a life coach business that thrives, so that you can help others and earn an abundant income doing what you love.
Successful life coaches understand that they cannot appeal to everyone. Instead, they form a clear picture of who they most prefer to work with. This helps to ensure that your clients experience better results AND that your business generates the results you are looking for.
The 4 Traits of Your Ideal Coaching Client
The easiest way to identify and get more ideal clients is to look for four specific qualities or traits.
IDEAL CLIENT TRAIT #1: They are Interested in Transformation
Your ideal client is someone who will be interested in personal transformation.
You don't want to work with someone who is only interested in rehearsing the past for another three, five or ten years – you want to work with someone interested in changing their results, and you want to help people interested in using transformational systems, practices and spiritual success principles.
These are the kinds of people who will take action and work to apply the tools and training you provide, and this helps ensure that everyone you teach and coach achieves results.
IDEAL CLIENT TRAIT #2: They Value Mentorship
You want to work with someone who wants to be mentored, supported and coached.
Your ideal client knows there is a gap between where they are and where they would love to be. A person who sees and acknowledges that gap will be willing to work with you to bridge that gap and achieve their goals and dreams.
Some people will seek out a coach or mentor, but won't take action on what they learn. A great way to tell whether a prospective client truly values coaching is to listen to their language.
Here's what you want to pay attention to:
Do they use language of self-responsibility?
Do they perpetuate stories of how others are responsible for what's not working in their lives?
A person who accepts responsibility for the results they see (or don't see) in their life will appreciate the value of a coach who can show them the path to creating the life they want.
Free Life Coaching eBook Reveals Everything You Wanted To Know About
Life Coaching as a Career!
Find out the path to creating the life you want… and make a fulfilling career through life coaching!
IDEAL CLIENT TRAIT #3: They are Willing
If you are interested in learning how to build a life coach business, then you are clearly someone who has a big heart and a passion for helping others. But the truth is, the people who most appear to need your help may also be the ones least likely to take action on the guidance that you provide.
This resistance to take action can bleed a lot of time and energy from you and your business.
Instead, focus on clients who are willing…
Willing to listen…
Willing to take action…
Willing to follow each step of the transformational curriculum that you lay out for them.
You also want to work with a person who identifies that this is their moment, this is their time. They believe that their time is NOW. They've waited long enough, they've tried long enough on their own, and they are now ready to ask for help and follow it.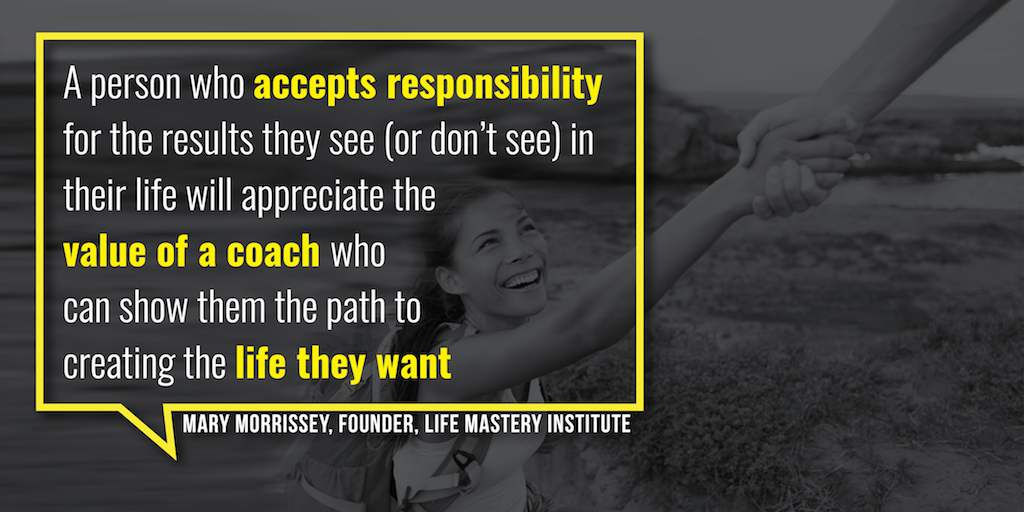 IDEAL CLIENT TRAIT #4: They Choose You
It can be tempting to think that if you can just "convince" someone to work with you, they'll finally get the help they've been waiting for to transform their life.
But the truth is, unless someone deeply believes they CAN be helped, and that YOU are the one to help them, they will most likely sabotage or block any possible transformation that you have to offer.
So the final trait or quality you want to look for is that they believe in what you have to offer. They value you and they are willing to invest in life coaching with you because they see that it is also an investment in themselves.
When a client possesses all four of these qualities, they are your ideal client
Before you know it, your client will turn to you and say, "You have changed my life, you have saved my life. I'll always remember what's happened here with you."
There aren't enough thank you's to begin to compare to the feeling of satisfaction one gets when they help another create a life that they truly love living!
For more step-by-step strategies and proven tips on how to build a life coach business that transforms your clients' lives and allows you to earn an abundant income working from anywhere that you choose, click here for access to my FREE "Are You Meant to Be a Life Coach?" eBook.