After coaching and mentoring tens of thousands of people over the past 40 years, including CEOs, heads of state, single moms, students and retirees, there are four very specific criteria a potential client must meet before I'll work with them.
And I recommend that you, too, follow this same four-part ideal client checklist when identifying the people you want to work with in your life coaching business!
Download This 4-Part Ideal Client Checklist as a PDF
Download this checklist as a shareable PDF; Easily share with colleagues or mastermind partners.
Why? Because it's incredibly important to hold a clear vision in your mind of the kind of person you'd really love to work with, so that you can begin attracting these types of ideal clients to your coaching business.
Don't fall into the trap of believing that just because someone is breathing, and they're willing to pay to work with you, that these two things make them an ideal client.
This is NOT the case!
Keep in mind that you have just 24 hours in a day, and the work you're doing matters! So ideally, you want to work with people you enjoy being around and can make a big impact on. This will help you to maintain positive energy in your life and forward momentum in your coaching business, which will ultimately empower you to grow and help even more people.
Are You Meant to Be a Life Coach? eBook
As a life coach, you want to work with people who you can impact, and who will add something you your life, too.
Here is my 4-part ideal client checklist
In order for me to consider working with someone in a coach-client capacity, the person must meet the four criteria below.
CRITERIA #1: They're ready for transformation.
You are a life coach, not a therapist. You're not here to sit and listen as your client tells you the painful stories of their past over and over again, like why something didn't work out, or how much something hurt.
While it makes sense for a client to share something they feel challenged by or stuck in, for example, you don't want to make room for your client to tell you these stories on repeat.
Make room for this, and you only support them in perpetuating the power of these stories, and it becomes impossible for them to move forward. How can they if they are still tethered to the past?
So again, listening to someone relive the painful experiences of their life over and over again is NOT what a successful life coach does.
If you have someone who wants to work with you because they are dealing with an extremely emotionally-painful issue, you may want to lovingly and kindly refer them to a counselor or therapist.
Your job as a life coach is to help your clients focus on and move toward the results they DO want to create for their life. This is why it's important that any potential client who wants to work with you is someone who really, truly ready for growth and transformation.
CRITERIA #2: They have a goal or a dream, or simply a deep longing for more.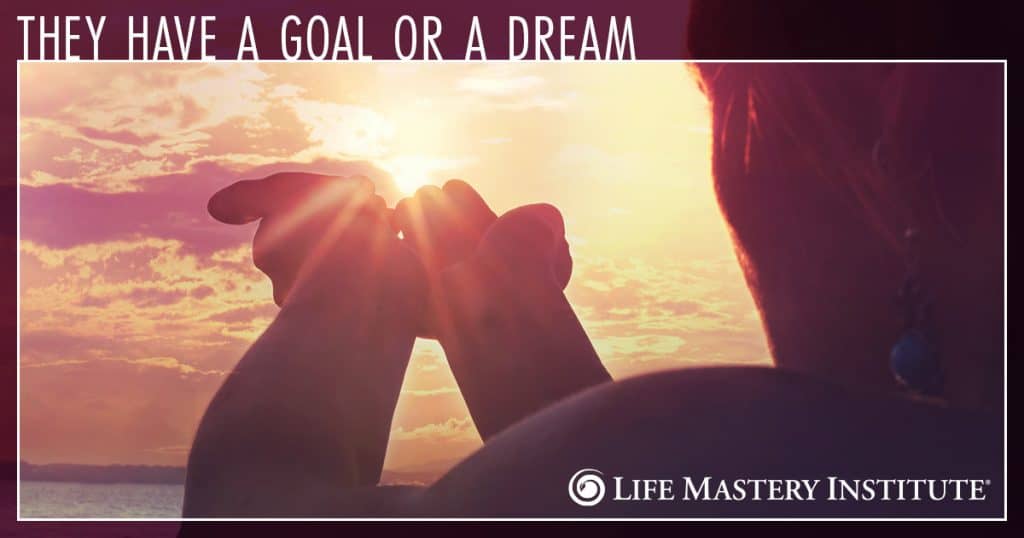 Ideally, you want to work with someone who either has or wants to have a dream for their future.
What is it that they want to create for themselves and their lives? What is it that they want to bring forth?
Maybe they want to meet the love of their life, or take their existing relationship to amazing new heights of fun, adventure and intimacy.
Maybe they want to find their dream job, or start their dream business.
Or perhaps they don't have a clearly defined dream yet… maybe they just want to find ways to inject more fun and play into their lives, and they'd like your help creating this for themselves!
You want to work with someone who has a clear dream for their future, or who is willing to create one with your help. Without this, you'll have nothing to work toward in your coaching relationship.
CRITERIA #3: They're coachable
You can be the absolute best coach in the world… but if you have a client who is  NOT willing to be coached, that's going to not only be frustrating for you, it's going to be extremely frustrating for the client, too!
If you have someone who isn't willing to accept your guidance, it's going to be difficult for them to make forward progress on any goals or dreams that require them to stretch outside of their current comfort zone.

So what are the characteristics of a person who is coachable?
A person who is coachable is willing to listen to feedback. They're able to receive constructive criticism without taking it personally. And they're open to looking at their own performance in order to improve it.
Your ideal client is a person who understands the value of mentorship and doesn't hesitate to apply what he or she learns.
Many coaches find it valuable to assess someone before they begin coaching them. After having your first one or two conversations with a potential client, sit and contemplate the following six questions:
Is this person curious about themselves? Does it seem like they look inward on a regular basis, out of a desire to reflect on their results and improve their life?
Are they willing to take personal accountability for the results they currently have in their life, whether they like those results or not?
Do they respond with enthusiasm when presented with new challenges and learning opportunities?
Are they willing to experience discomfort or have difficult conversations to rebuild relationships that may have broken down in the past?
Are they willing to try on different assumptions or beliefs? Or does it seem like they have a strong commitment to always being right?
Do they seem open and receptive to feedback?
Ask yourself these questions after your first one or two conversations with the person to help you more easily see if this potential client will be coachable if the two of you decide to work together.
CRITERIA #4: They're willing to invest in themselves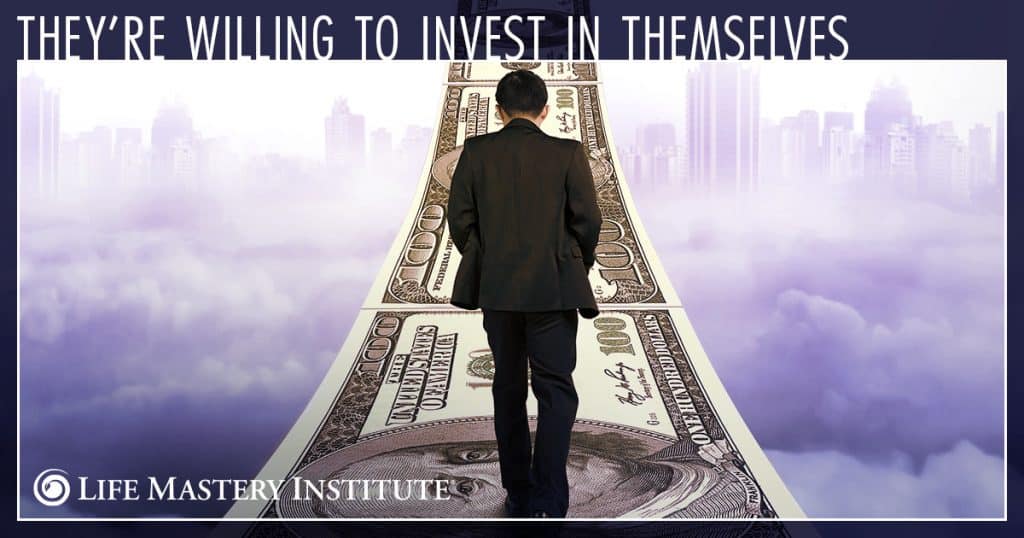 Your ideal client is someone who is willing to invest in themselves for the result they say they want, by means of investing in a coaching program with you.
Think about it this way:
I fly frequently. When I buy a plane ticket from United Airlines, I don't really want the plane ticket, I want the end destination. But, I know that I can't get there without the support of United Airlines or some other airline. I don't own a plane, and I don't have the expertise to fly one to get me to where I want to go.
It's the same for any client you consider working with.
They come to you not because they want a coach, but because they have an end destination in mind. They have a goal or a dream in mind, or even just a deep longing and yearning for more in their lives that they don't know how to articulate and fulfill on yet.
Your potential clients know they need someone to help them bridge the gap between where they are now and where they truly want to be in life. They know that if they could have fulfilled their goals and dreams on their own, they would have done it by now! They know that you are the jet plane that is going to help take them there, and so they are willing to invest in working with you to achieve the results they want in their lives.
Here are some signs that a potential client is someone who will likely be willing to invest in themselves:
They have invested in personal growth coaching, programs or events in the past.
They invest their time into reading books to build their knowledge and expertise in the area of personal and/or professional success.
They seek out opportunities to meet and connect with other like-minded, success-driven people.
They express that they are eager to have the support and guidance of a coach, and want to know how quickly the two of you can get started.
If a potential client meets two or more of the points above, chances are they are someone who is ready and willing to invest in themselves, by means of investing in a program with you!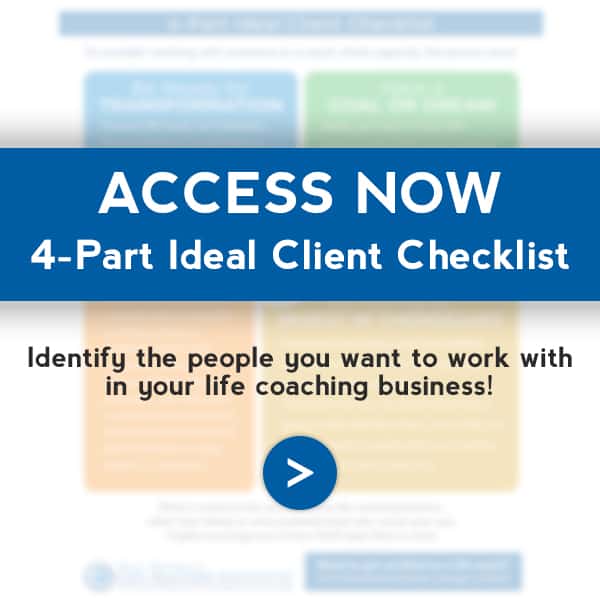 Who is the person YOU would most love to work with?
When it comes to the success of your life coaching business, rather than taking on every potential client who comes your way, I highly encourage you to have YOUR ideal client in mind.
As I've just shared with you, the four criteria I recommend you look for in a potential client are that they are ready for transformation, they have a goal or a dream (or simply a deep longing for more), they are coachable and they're ready and willing to invest in themselves!
And here's an additional tip for how to attract your ideal clients…
Be the type of client you want to attract.
Be a growth-seeking, forward-thinking individual who is vision-driven, coachable and willing to invest in themselves.
Be the type of client that you want to attract, and you'll be surprised just how quickly your ideal clients will begin to show up around you, and how easily you'll be able to recognize them and enroll them in a program with you!
And now, here's a free gift for you!
Would you love more more proven strategies on how to start or grow a successful life-coaching business that makes a profound and lasting difference in the world?
If so, my free ebook will be truly helpful for you!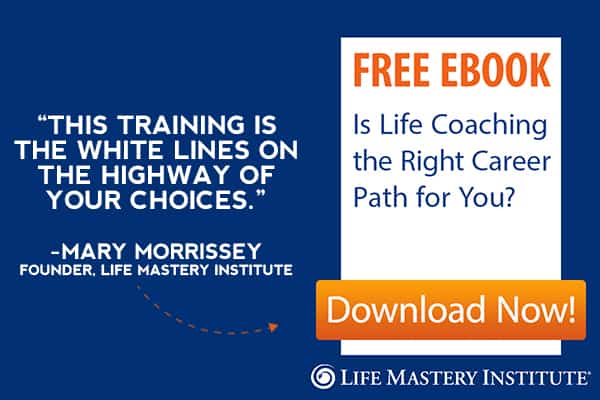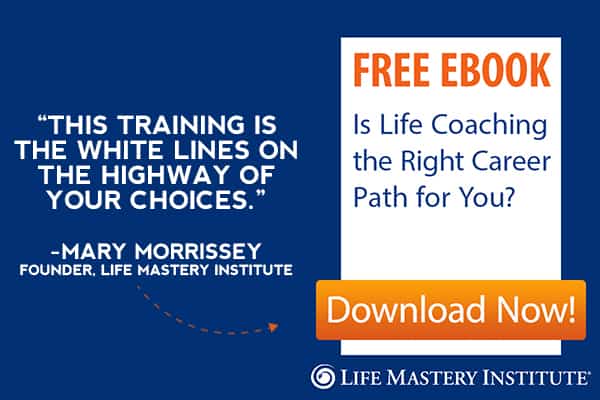 Click here to download your free copy of "Are You Meant to Be a Life Coach?"