When a Life Coach is struggling to attract clients, it's easy to assume that the price is the problem. Your services cost too much, people can't afford you, and if you just charged less, your business would be booming. Right?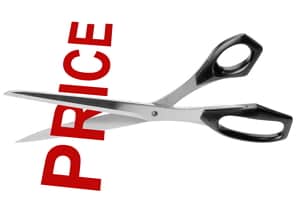 Unfortunately, this is often not the case, and making this mistake causes you to undervalue yourself. To make matters worse, if this strategy fails to bring you more clients, it can result in you losing self-confidence – after all, if you can't even sell your services at a reduced price, what does that say about you?
What it does not say is that you're a failure as a coach, or that you aren't worth what you're charging. All it means is that your business is missing a few of the pieces that it needs to attract clients. Today, I'm going to explore three of those pieces, so pay attention as you read on and see if you have room to improve in any of these areas.
Area 1: Marketing
Many people in many professions, including Life Coaches, will protest, "But I'm not a salesperson!" The trouble with that is, if you don't know how to attract clients, you'll have no clients to coach.
Do you know how to describe your coaching in a way that gets peoples' attention? When you explain what you do, do people understand how you can help them solve their problems? And if you know what to say, do you know where to say it, and how to spread your message so that enough people hear it?
Area 2: Perceived Value
If your clients think your coaching costs too much, it's not necessarily because the coaching isn't valuable enough. It could be that they simply don't realize what great changes are possible for them, and what it's costing them not to make those changes.
As a Life Coach, it's your responsibility to make them aware of what's missing and what's possible. In your marketing, talk about the problems they currently have, and the effects that those problems are having in their lives. And then tell them about the life that's possible for them, and the joys that they'll experience if they create that life.
Explain what their problems are costing them in terms of time and money – chances are, it's far more than what you charge, and you get to help them understand that.
Area 3: A Proven System
If you aren't using a system that's been tried, tested, and proven to get results, that could be part of what's scaring your customers off.
If you're just listening to peoples' problems and giving them advice, you'll have a hard time showing the difference between yourself and your clients' therapists, friends, families, and all the other people who have ideas for how your clients should run their lives.
But if you have a program that covers all the steps they need to take to become successful, and that's gotten consistent, powerful results for other clients in the past, that will help you to stand out in your industry and assure people that you can truly change their lives.
Do you have these 3 vital pieces in place?
If you've noticed a gap in your business while reading this post, I want to help you fill it.
I've built a thriving coaching business from the ground up. I know how to market my services and show the value of my programs, and I've developed a powerful curriculum that can help any client who's willing to take action to create the life of their dreams. And now, I want to help you to create that same success.
If you want to learn how to market your coaching effectively, and you'd love to offer your clients a proven, powerful program that gets them great results, please fill out the form on the right to get in touch with my team.
And if you have the three areas I listed taken care of, but you're still struggling to attract clients, I'd love to explore that with you and find out what's missing. Together, we can figure out what is holding you back, so you can overcome that obstacle and build the impactful, lucrative coaching practice you desire.
You CAN attract clients who will pay you what you're worth. Just fill out the form on the right, and we'll help you to make it happen.
Here's to Success,
Mary