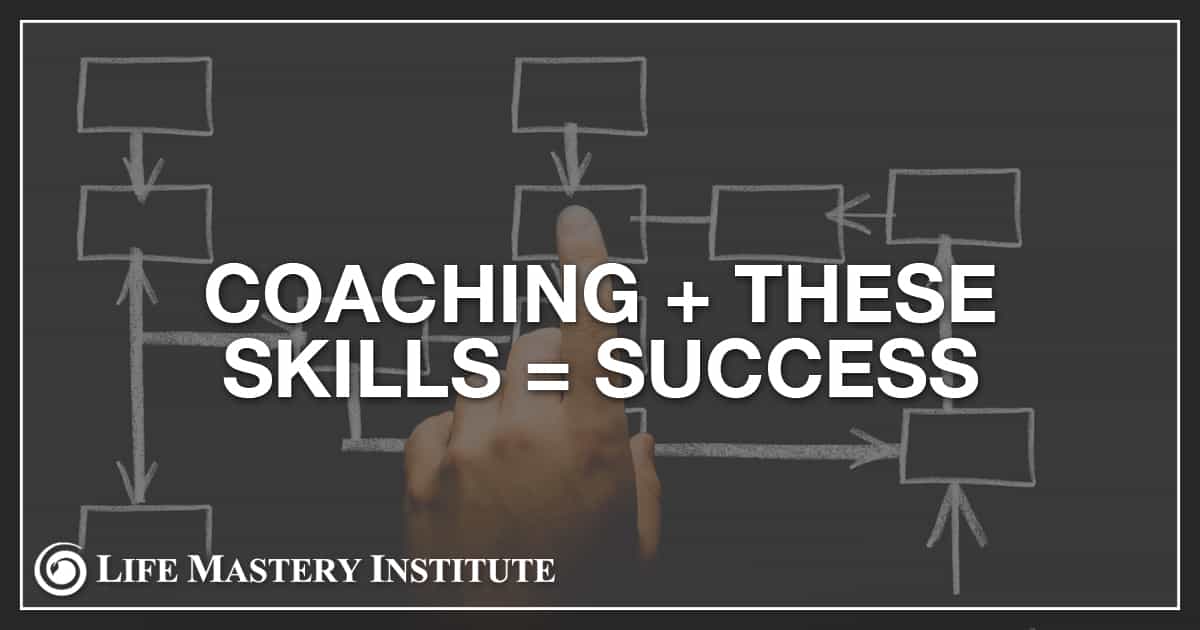 When people decide to become a Life Coach, there's a very common mistake that many new coaches make. This one error alone can hold you back for years or even cause you to give up on being a coach, but many people don't realize that they're making it until months after they start their coaching business.
Do you know what it is?
It's thinking that simply coaching your clients is all you need to do.
Many coaching programs inadvertently perpetuate this myth. They teach their clients the craft of Life Coaching and then set them loose, full of wisdom and hope, but missing some of the vital skills that they cannot do without.
Months or even years go by, the new Life Coach struggles for every client they get, and they slowly come to realize that they've made a mistake.
You cannot build a Life Coaching business through coaching alone.
There are two other skills you MUST have before your career as a Life Coach can thrive. I'll list them here, elaborate on them, and then tell you how you can make sure that you have them in place.
1. Selling your services
It sounds obvious, and yet many people miss it. They think if they excel as a Life Coach, then people will see the benefit of working with them, and will readily sign up.
But the reality is, there's a great deal more to getting clients than simply being a good coach.
You need to know how to find your clients, catch their attention, and show them that they need you, because most people don't even realize that they NEED a Life Coach, let alone that they would benefit from working with you.
Once you've done all that, show them that your services are valuable enough to be worth paying for. If you don't want to constantly seek new clients or give your existing clients smaller results than promised, you need to know how to keep them coming back for more.
2. Running a business
Besides knowing how to attract and coach your clients, it's essential to understand the business side of your Life Coaching practice.
Learn how to manage your time, so that the work you love doesn't take up your whole life and become a job that you hate.
Discover how to build a team, so you can focus your time and energy on the work you enjoy instead of getting bogged down by grunt work and peripherals.
And if you want to make the biggest possible impact on the world around you, you need to know how to grow your business so that you can serve more people.
If you don't know how to do all this, don't despair. It doesn't have to be hard.
If you've never thought of yourself as a salesperson or a business owner, the requirements I just laid out may sound daunting to you. But the truth is, EVERYONE who wants to turn their passion into an impactful, lucrative business needs to either master these skills, or hire a teammate to do it for them.
It doesn't have to be difficult. In fact, I've dedicated my life to making sure that it isn't.
I've turned my Life Coaching into a 7-figure business, and I want to teach you how to do the same. I've already figured out the system for making that happen, so you don't have to learn anything from scratch.
I've even created products that you can use in your business, so you don't have to spend months of unpaid work on creating programs before you start to sell them.
I can teach you how to attract clients, coach them effectively, and keep them coming back for more. And you'll do it in a way that frees up your time and makes life easier, instead of giving you a steep learning curve and a massive to-do list.
Do you want to use a ready-made system to create a wealthy business
and change thousands of lives?
If you do, I invite you to get in touch with my team and see if my program is right for you. Just fill out the form on the right, and we'll be in contact soon.